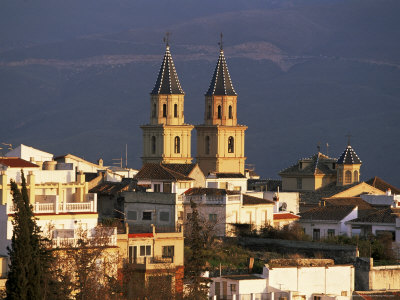 It is day 3 at the farm in Orgiva, Granada and my muscles hurt in places I didn't know existed. But I love it! I came looking for a different part of Spain and a different experience through HelpX and so far I'm having a great time. Kay and Bernie (my hosts) have been very helpful and generous and know a lot of people in the area so there are visitors in and out all the time.
I arrived on Wednesday night not knowing what to expect as I sat in the middle of a strange town waiting for Kay to pick me up. Fortunately, she did come for me and showed me to her lovely white house on the outskirts of town. I settled in to my new surroundings and enjoyed the change of pace from busy city life in Madrid.
The 7 AM wake up call the next day for work came as a bit of a shock. I rolled sleepily out of bed for the first part of the day's work. Kay and Bernie keep an amazing garden which is where most of my work takes place. I walked around to take pictures of it today for my lovely readers only to realize I left my camara chord in Madrid. Woops! Anyway my work so far has consisted of everything from weeding to compost pile-moving to planting to more weekding. It is hard work but it is nice to work with my hands for a change. On Thursday whilst I was pulling away at stubborn weeds a surprise came chugging up the driveway...PIGS (or in Spanish cerdos)!!
Random photo from Google but this is what they look like



Bernie and Kay had been waiting to buy more pigs and raise them for ham/chorizo making for a while and I was the lucky helper that finally saw them get here. I took pictures of them too...darn camera chord. There are 3 pigs Cider, Apple, and the littlest one Rosie. They are adorable but kind of freaked out at the moment. I go to visit them everyday even if they bolt when they see me... I'll have to be working on that as well as developing my green thumb!